Sea Villas

About Sea Villas
With their exquisite setting on Natai Beach, the four Veyla Sea Villas are truly a luxurious escape. Modern design blends with minimalist touches for a close-to-nature aura while glass sliding doors open up to wide terraces, allowing indoor-outdoor living. Tropical gardens add a dash of greenery and sweeping views of the brilliant green sea and blue sky may be devoured from every floor.
The open-plan living and dining room is a wonderful gathering place for your group where you can disconnect from the buzz of the outside world and reconnect with each other. Looking out towards the emerald sea, the large and comfortable sofa is complemented by aerial hanging chairs. Right behind, a raised island serves as a large dining table for eight with high chairs and a hidden wine fridge.
However, it is the villa's terrace with a plunge pool and charming swing for two people that is this floor's pièce de résistance. A charming spot to reflect and restore, it is also great for sunset watching or just gazing at the endless sea.
The villas have modern in-built kitchens and a skilful chef is available to prepare all your meals on request (extra charge). With two bedrooms on the first floor and the Master Bedroom enjoying the entire third floor to itself, there's plenty of room for everyone to spread out and enjoy their privacy. These exquisite three-bedroom villas can accommodate up to six guests. Multiple villas can be booked together for larger groups, allowing you to be close by yet in your own private space.
North of Phuket island, merely 30-minutes away from the airport, Natai Beach is a quiet and relaxed neighbourhood. The splendour of nature in this secluded location is abundant, and if you enjoy beach walks on the powder-soft sand, there's no location to beat this one. There are a few local restaurants within walking distance, and excursions further afield in Phang Nga can be arranged by the Villa Manager.

Layout
Veyla Sea Villas are arranged over three floors with entry from the first floor and superb sea views from the second and third floors. When you enter the villa from the main gate, you will find Guest Bedrooms 1 & 2 on this floor, overlooking a small tropical garden.
The open-plan living and dining areas are located on the second floor of the villa and open to two private terraces - one that faces the sea and has a private plunge pool, and a more intimate, private terrace at the back of the villas with hanging chairs. Another floor up, the Master Bedroom enjoys a private entrance through a staircase at the back of the villa and exquisite sea views from its vantage point.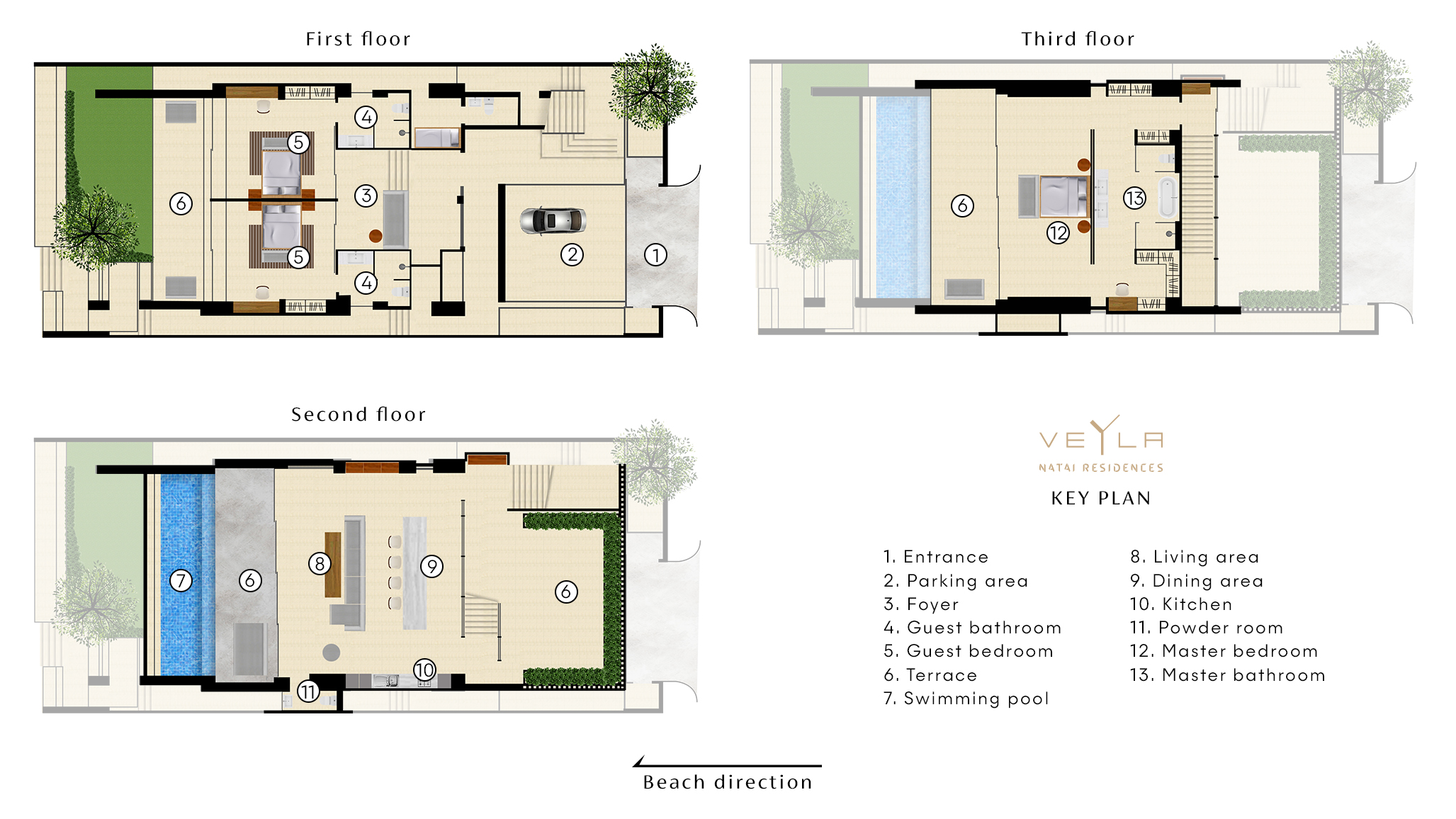 Download in high resolution
Living Areas
Indoor Living
Designed to mirror the outside setting, interiors of the Sea Villas are monochromatic in design, reflecting the shades of the sand. Each villa's indoor living area blends seamlessly with tropical living as the floor-to-ceiling sliding glass doors open up to reveal a plunge pool overlooking the sea.
A large and comfortable sofa is at the centre of the open-plan room, complemented by two aerial swinging chairs. A raised island serves as a generous dining table, with high chairs seating eight. The indoor living space is spacious yet cosy and provides the perfect gathering point for families or groups of friends throughout the day.



Outdoor Living

True to their name, Veyla Sea Villas take outdoor living very seriously. Featuring both sea and garden views, they never let you forget the two sides to Phuket's natural beauty. Beyond the glass doors on one side of the living room, a terrace features aerial swinging chairs surrounded by tropical plants. The space is intimate, but large enough for a small barbecue, a meditation session or an early morning private yoga class. Meanwhile, the front terrace hosts a plunge pool and a double sunbed, for rest and relaxation.
One level down, the first floor has a lovely garden connecting both the Guest Bedrooms and the Master Bedroom on the third floor has a private balcony for morning tea with a scenic view.
Bedrooms
Master Bedroom
Imbibe serenity as you settle into the Master Bedroom located on the third floor of the villa. Accessible via a private staircase from the main living area, the room is lavish and takes up the entire floor. A king-size bed and ottoman sofa look out towards the sparkling sea beyond the private terrace with a double swing. For a touch of glamour, the ensuite bathroom has a free-standing bathtub for luxurious soaks, a double vanity, and separate rain shower.



Guest Bedrooms
Two ensuite guest bedrooms are spread across the first floor of the villa, kitted with king-size beds, comfortable chairs and a large work desk. Modern wardrobes with plenty of storage space are located near the bathrooms which feature separate power and rain showers. The rooms have floor-to-ceiling sliding glass doors that open onto a terrace and a beautiful garden.
Quick Facts
Location Natai Beach, Phang Nga, Thailand 
Capacity 6 people (3 bedrooms: all with king-size beds).
Living Areas Open-plan living and dining room; monochromatic interiors; large sofa looking towards the pool; private plunge pool with sunbed; raised island dining with 8 high chairs; modern kitchen with a wine fridge; three bedrooms; private garden with hanging chairs.
Pool 9x2m plunge pool with salt filtration in each villa.
Staff Manager; chef; housekeeping; service staff; pool maintenance. Babysitters and massage/beauty therapists available on request (additional charge).
Dining Daily breakfast included. A private chef can also prepare lunch and dinner for a charge (Thai and western menus), catering to special dietary requests wherever possible. Grocery is charged at cost plus 20% handling fee which is subject to tax at the prevailing rate. You can also arrange private dining at the estate's poolside restaurant offering spectacular Thai or western cuisines.
Communication Complimentary WiFi access.
Entertainment Movie screen for hire near the main pool of Veyla Residences for poolside movie nights.
For Families Veyla's Sea Villas welcome families with children of all ages. A range of children's equipment can be hired locally on request (additional charges apply).
Spa Choose from a comprehensive spa menu for a relaxing in-house treatment carried out by professional beauty and wellness therapists (extra cost).
Transport Airport transfer, car hire and taxi pick-ups can be easily arranged by your Villa Manager.
Weddings & Events The Veyla Sea Villas are suitable for small gatherings only.
Additional Facilities On-site fully functional gym within the complex can be accessed by resident guests staying in the sea villas. The estate also boasts a common swimming pool and private dining experience in the poolside restaurant.
Property Area 585 sqm.
Managed & Marketed By